WELCOME TO GIRL GUIDES SOUTH AUSTRALIA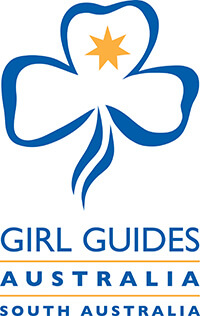 Girl Guides South Australia (GGSA) was established in 1912 and today it is the largest youth organisation for girls and young women in South Australia; with 2000 youth members and 500 volunteer Leaders and adult Members.
GGSA provides a non-formal education program that is dynamic, flexible and values-based. Girls and young women are fully supported in safe and friendly environments where they can:
have a say in decision-making and activities
be listened to and respected
train and receive support in life skills
have their best interests considered and upheld
GGSA is an organisation that welcomes and actively seeks members from all societal groups.
GGSA is a Member of Girl Guides Australia (GGA) and a Member of the World Association of Girl Guides and Girl Scouts (WAGGGS).
OUR MISSION:
Empowering girls and young women to discover their potential as leaders of their world
FIND OUT MORE
FROM THE STATE COMMISSIONER & TEAM
Here's a bit about us!
Kate started her guiding experience as a youth member and continued in the unit until she was 18 years old, and then stayed on to become a Unit Leader. In recent years, Kate was part of the Olave Program Team.
Kate is excited to join the State Commissioner team and continue the work of GGSA to empower girls and young women.
Tina has been an active member of GGSA since starting as a Brownie Guide then went on to become a Girl Guide, Junior Leader and then an Adult Leader. Tina has worked with units in all age groups over the has also been involved in all of the Scout shows and of course our very own Carry On Guides. Tina also loves the outdoors, adventure and supporting our youth in extending and challenging themselves.
Emma has been a leader of youth and involved with many of our volunteer departments including International and Olave Program. Emma enjoys working in patrols in guiding to bring a range of experiences to all girls. Most recently, Emma been an Assistant State Commissioner which has given her a broad knowledge  and experience of the role.
Nicole joined Girl Guides at 7 years old and has never left! She became a junior leader and then an adult leader and runs a 14-17 year old Unit. Nicole is a past member elected GGSA Board member and has been involved in the Program, Training and Olave Program state volunteer departments. She was the National Olave Program manager and enjoyed working with amazing women across the country to provide opportunities for young women. Since finishing her term she has enjoyed focusing on her Guide Unit and providing them with opportunities and challenges.
Contact us on sc@girlguidessa.org.au